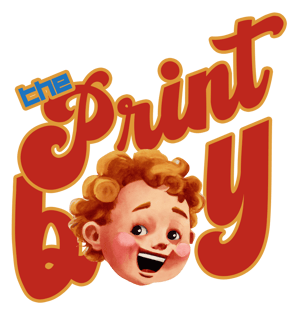 The Print Boy: Privacy Policy
Here at ThePrintBoy.com, we respect your privacy and are committed to protecting your personal information. This Privacy Policy describes how we collect, use, and safeguard your information when you use our website.
Information We Collect
When you visit our website, we may collect certain information about you, such as your name, email address, phone number, and mailing address. We may also collect information about your browsing activity on our website, such as the pages you visit and the time spent on each page.
How We Use Your Information
We may use the information we collect from you for a variety of purposes, such as:
Processing orders and payments

Providing customer support and responding to your inquiries

Improving our website and services

Sending you marketing communications about our products and services

Complying with legal requirements
We may share your information with third-party service providers who assist us in operating our website and providing services to you, such as payment processors and shipping companies. We only share the minimum amount of information necessary to provide these services.
How We Protect Your Information
We take appropriate measures to protect your personal information from unauthorized access, use, or disclosure. We use industry-standard security protocols and technologies to safeguard your information and ensure its confidentiality.
Use of Cookies and Other Tracking Technologies
We may use cookies, web beacons, and other tracking technologies to collect information about your browsing activity on our website. Cookies are small data files that are stored on your device when you visit a website. Web beacons are small images or scripts that are embedded in web pages and allow us to track your activity on our website. We use cookies and other tracking technologies to improve your experience on our website and to analyze our website traffic.
Your Choices
You have the right to choose whether or not to provide us with your personal information. If you choose not to provide certain information, it may limit your ability to use certain features of our website or to receive certain services from us.
You may also choose to opt-out of receiving marketing communications from us at any time. To opt-out, simply click the "unsubscribe" link in our emails or contact us at info@theprintboy.com.
Changes to this Policy
We may update this Privacy Policy from time to time to reflect changes in our practices or legal requirements. We encourage you to review this Policy periodically for any updates or changes.
Contact Us
If you have any questions or concerns about this Privacy Policy or our practices regarding your personal information, please contact us at info@theprintboy.com.
Effective Date: 03/20/2023